Emmanuel-Faith Lutheran School Chapel Schedule
2022-2023
Our school chapel service features hymns and a sermonette (brief message) for the children. Children often lead the chapel service and parents and guests are always invited to attend. The opportunity of sharing gifts with the Lord is given through the offering. We have a already determined where chapel offerings will be sent to throughout the upcoming school year based on this schedule.
Students are required to attend chapel each week and encouraged to dress up. The Bible is used not only for instructions in the Christian religion but also the basis for motivation and discipline. God's Word influences everything the children learn, and it is the unifying force in the school.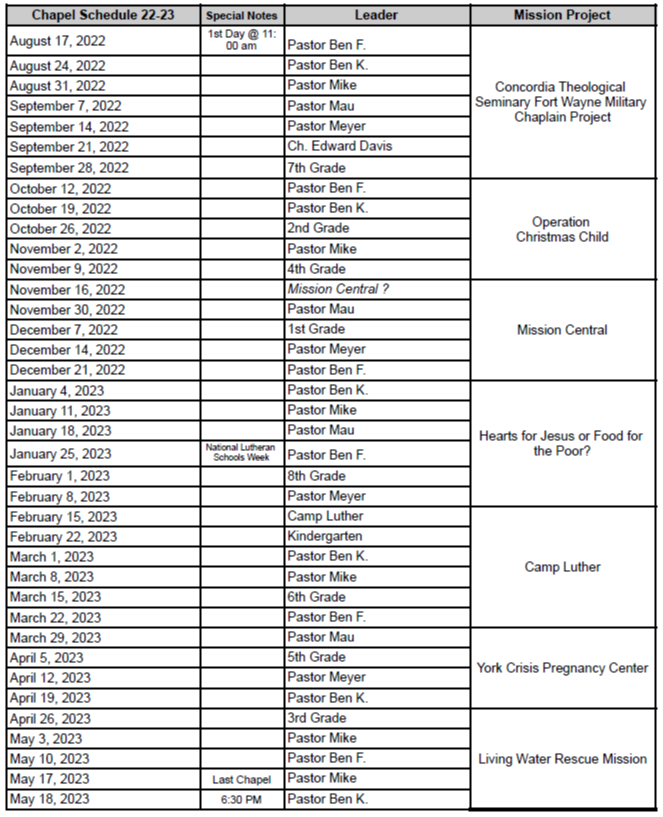 The schedule below indicates where our student's Chapel Offerings are being designated each month. Take a look at these organizations to see what a big impact we are helping to make!
Concordia Theological Seminary Fort Wayne Military Chaplain Project
August 17 - September 28, 2022
Learn More
Operation Christmas Child
October 12, 2022 - November 9, 2022
Operation Christmas child is a program through Samaritan's Purse that sends shoe boxes to children in developing countries for Christmas.
How to Pack a Shoe Box
Mission Central
November 16 - December 21, 2022
Mission Central Supports missionaries in the field through the Lutheran Church-Missouri Synod.
Mission Central Home Page
Hearts for Jesus 2021-2022
January 4 - February 8, 2023
Each year, the Nebraska District chooses a project to support with their prayers and offerings throughout the year.

Camp Luther
February 15 -March 22, 2023
Camp Luther of Nebraska is a non-profit, Christian ministry supported by the congregations of the Nebraska District of the Lutheran Church-Missouri Synod. We are blessed with 160 beautiful acres of land in southwestern Colfax County, Nebraska, and we offer a wide variety of programs and services including summer camp (overnight camp, day camp, family camp), Vacation Bible School, our His Kids special needs ministry, outdoor education, youth retreats, confirmation retreats, group retreats, facilities rental, and more.
Learn More
York Crisis Pregnancy Center
March 29 -April 19, 2023
York Pregnancy & Family Resource Center provides many free services such as: pregnancy testing; children's clothing sizes 0-6; diapers; furniture; & caring, nonjudgmental support for expectant parents & families, including those considering abortion.
Learn More
Living Water Rescue Mission
April 26 - May 18, 2023