Join us for the annual Believe Fundraiser benefitting Emmanuel-Faith Lutheran School & Little Blessings Preschool, Friday, November 18th at the Holthus Convention Center. The evening kicks off with silent auction item viewing/bidding and a social hour at 6pm. Dinner at 7pm, followed by the live auction that includes class projects from each grade level and a great list of other items/trips/experiences as well. Single tickets are $30 or reserve a table of 10 for you and your family/friends for $300. A ticket order form will be mailed to each family to complete and return to the school office.
This year the Believe Fundraising committee is asking for your help by requesting all EF families donate 1 item for the silent or live auction by Friday, November 4th.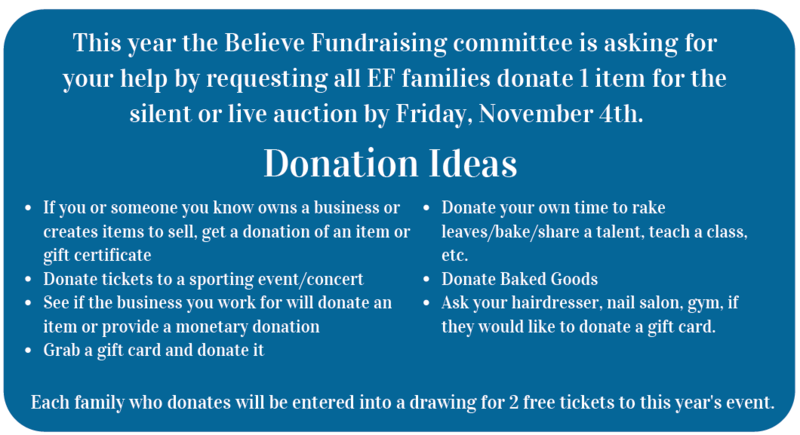 All items/gift cards/etc. can be dropped off in the school office. Be sure to include
your name, the item you are donating and your phone number so we are able to give proper recognition for your donation. A paper copy of this letter is coming home with students today with a detachable form to include with your item.
Thank your for your support of our school as we Believe in our Future and our mission of Making Disciples for Life!